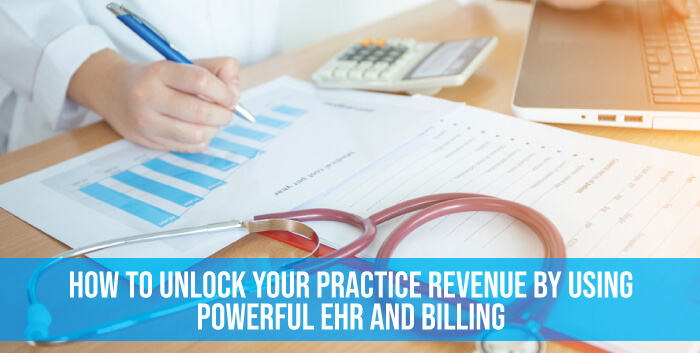 if you're looking to increase practice revenue, full schedules and robust patient panels aren't necessarily the answer. You can only see a certain number of patients each day, and you can't add more than your providers can handle. However, the additional revenue you are looking for may already exist. It may be locked deep inside inefficient electronic health records (EHR) and slow, manual billing processes. It is possible to find additional revenue inside your practice walls; and it doesn't have to be a time-intensive, expensive exercise. That's what powerful EHR and billing systems are for; they automate and streamline internal systems so you find a robust stream of revenue.
Recently the Centers for Medicare and Medicaid Innovation (CMMI) summarized the current revenue difficulties experienced by some providers. CMMI director Adam Boehler told attendees at the American Hospital Associations annual meeting, "It's very hard for providers to have one foot in a fee for service payment model and one foot in value-based payment models." It's a pointed recognition of the fact that providers must navigate complex reimbursement mazes simply to get paid for services rendered. That is no longer sustainable. Practices can't continually tread water in the midst of convoluted reimbursement policies at the federal, state and private payer level.  It's time for powerful electronic health records (EHR) and billing systems to step in and streamline revenue.
EHR and Billing Aiding in Increasing Practice Efficiency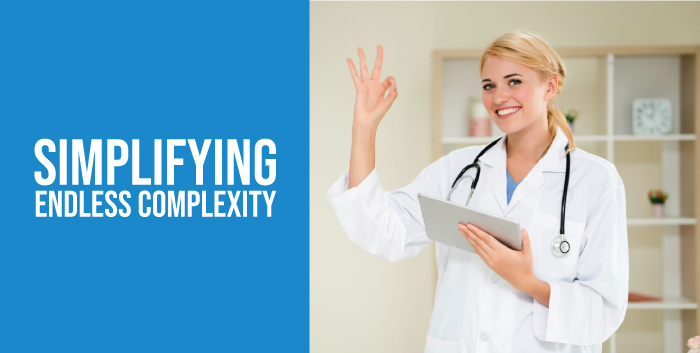 The biggest challenge to practice revenue is the complexity of the reimbursement process – and the basics won't change. At the outset patient care must be delivered, documented, and patient pay collected efficiently. Then, patient care data must be retrieved from the EHR and coded accurately to capture all charges and create accurate, successful claims. Once that is complete, timely billing must take place and underpayments and denials tracked. If any of these steps are left to manual systems, revenue that has been earned can be locked away in the practice, never to be retrieved for real cash flow.
On the other hand, sophisticated EHRs are built to generate revenue. They are highly evolved systems that incorporate a powerful knowledge base and enhance usability, performance, and reliability. They are the systems that combine many different practice functions to give doctors streamlined access to critical tasks in one application:
Appointments
Clinical reviews
Patient notes
Medical histories
Document manager
These are the EHR systems who have heard physicians' frustrations, loud and clear. They have answered with solutions that are intuitive, easy to use, and inexpensive to set up. They are also "future-proofed" with an ICD-10 guarantee and are ONC 2015 Edition certified, MIPS, Meaningful Use Stage 2, and Meaningful Use Stage 3 ready.
There are other reasons to find better EHR. For multi-physician, multi-office practices it can integrate scheduling, intelligent billing, data mining reports and EHR.  It provides the financial momentum that practices need for sustainability including:
Improved productivity
Accelerated revenue cycle
Decreased cost and risk
Enhanced service quality
Ensured compliance
Suddenly, all the revenue generating feeder streams become a river of steady cash flow.
Increasing practice efficiencies and cost savings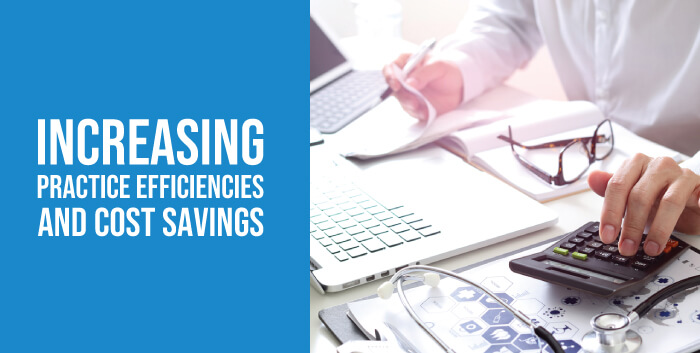 The federal government's health information technology platform recognizes the importance of replacing inefficient EHR. HealthIT.gov states that integrated EHRs can "increase practice efficiencies and cost savings by reducing manual labor and expenses" and providing the following benefits including:
Reduced transcription costs
Fewer manual labor hours for pulling, storing and re-filing charts
Improved documentation and automated coding capabilities
Reduction in lost charges
It's the interoperability and streamlining of practice functions that offer providers the greatest relief. Finally, all the minute tasks within the practice that must come together to improve the delivery of care, coordination with other providers, pharmacy checks, and revenue generation can occur without the provider attending to every single one. Electronic health records vastly improve practice efficiency and that alone can unlock increased revenue. HealthIT.gov says practices with the right EHR report the following efficiencies:
Improved practice management through integrated scheduling systems that link appointments directly to progress notes, automate coding and managing claims
Time savings with easier centralized chart management, condition-specific queries, and other shortcuts
Enhanced communication with other clinicians, labs, and health plans through:

Easy access to patient information from anywhere
Tracking electronic messages to staff, other clinicians, hospitals, labs, etc.
Automated formulary checks by health plans
Order and receipt of lab tests and diagnostic images
Links to public health systems such as registries and communicable disease databases
Increasing productivity and revenue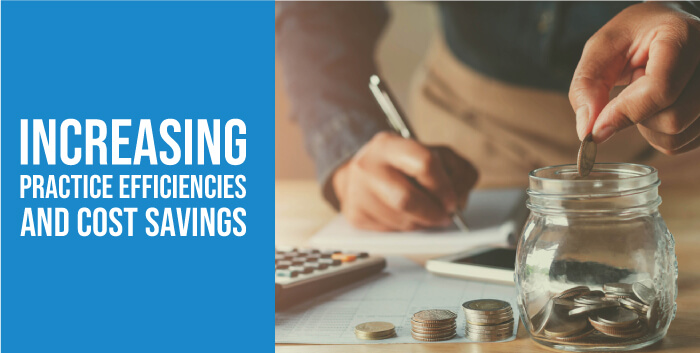 Doctors spend at least 20 percent of their time on administrative tasks. It reduces face-to-face patient care time and contributes to physician burnout. On the other hand, when automated business functions increase physician and staff productivity, revenue increases with it.  Practices can experience:
Improved reporting for CMS quality metrics, improving reimbursement rates
Improved ability to meet regulatory requirements and avoid fines or lost payments through automatic EHR alerts
Reduction in charge lag days and vendor/insurance denials associated with late filing
Reduction in staff time for manual charge entry, resulting in more accurate, timely billing
Automated alerts that minimize claim denials and lost charges from CMS, such as Advance Beneficiary Notice
A search for better EHRs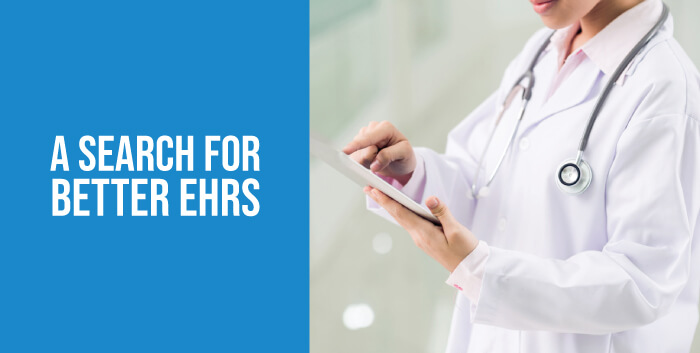 Black Book Research surveyed nearly 19,000 ambulatory EHR users about their plans for the systems in the next three years. Not surprisingly, the vast majority said they would replace current EHR with more "customizable and integrated" systems. Users say they want "cloud-based and mobile tools that offer on-demand data and visibility into financial performance, compliance tracking and quality goals."
That's not unreasonable. In fact, it's the only way to move forward. Practices of all sizes should be able to maximize the use of email messaging, and interoperability between all stakeholders including:
Health information exchanges
Pharmacies
Payers
Radiology/imaging services
Hospital networks
Referring providers
Cancer registries
Patients
Syndromic surveillance agencies
Immunization registries
Specialty registries
Electronic devices
DICOM compliant imaging equipment
Interoperability of that size and scope may still be out of the reach of smaller practices but it doesn't have to be; not when EHR exist to create these vast networks quickly and economically.
Conclusion:
It worth paying attention to the national drive to avoid surprise bills. Reports show that surprise bills have affected 57 percent of adults. Consequently, state legislatures are moving at increasing speed to stop that from happening. Nine states have already enacted comprehensive surprise billing protection laws. Fifteen states have partial surprise billing protection laws. Pew Trusts reports:
At least 25 states have laws protecting patients from surprise out-of-network bills, usually, for emergency care, they received at hospitals or ambulatory surgical centers
At least 20 states are considering legislation this year
Certainly, practices have a right to receive reimbursement for patient care. However, balance billing is in the cross hairs of those driving surprise bill legislation. It behooves practices to get their billing right and practice transparency with patients. That means having an automated EHR system that generates patient pay responsibility so patients can be educated at the time of service.
It's a complicated, messy revenue world out there. Automating and streamlining practice revenue functions are the only way to steer clear to maximize revenue. When you do, you will probably find that better access to patient data improves diagnosis, prescribing, education and in the end – patient outcomes. Increased revenue and improved patient care are what we all want.